AI is launching 911 call centers into the future with video calls, triaging redundant reports
When tragedy strikes, calling an ambulance or police as quickly as possible can be a matter of life and death.
Staffing issues continue to plague 911 call centers, but with the helping hand of artificial intelligence and high-tech software, emergency response call centers are already seeing improvements to streamline work and get help to those in need as efficiently as possible. 
"When we work with public safety, specifically in this area, the PSAPs [public safety answering points] are experiencing some of the biggest challenges," Kim Majerus, vice president of global education and U.S. state and local government at Amazon Web Services (AWS), told Fox News Digital in a phone interview.
"Eighty percent indicate that they're short-staffed. Some are facing staffing shortages as high as 50%, with the national average being about 30%." 
AI STEPPING IN TO ASSIST 911 OPERATORS BATTERED BY TRAGIC CALLS, UNDERSTAFFING
Recent studies have found that the majority of 911 call centers attribute their staffing issues to the stress of the job, Majerus said. 
AWS began digging into how to assist PSAPs in 2018, when Majerus formed the company's justice and public safety team, she said. They have since been personally working with 911 call centers on how to leverage artificial intelligence and high-tech software to remedy ongoing problems with staffing issues and outdated methods of dispatching emergency services. 
The communications division at the Guernsey County Sheriff's Office in Ohio is touted as having one of the most high-tech 911 systems in America after teaming up with software firm Carbyne, which is powered by AWS cloud-native technology. It's rolled out systems that allow dispatchers to view the scene of a tragedy or crime and triage — or prioritize — phone calls based on need. 
Jeffrey Hannon, dispatch supervisor for the Guernsey County Sheriff's Office, explained to Fox News Digital that anyone who calls 911 in the county is automatically sent a link to a phone via text that allows dispatchers to view and assess the scene.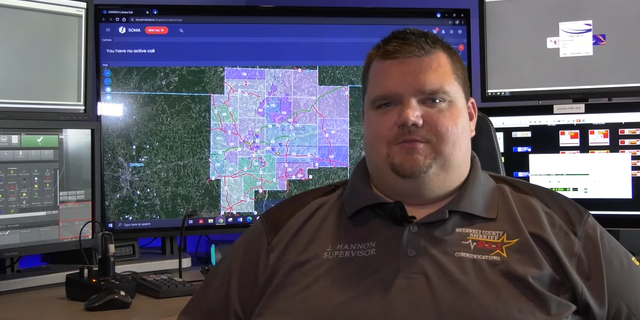 "When you click on that link, which we instruct callers to do … they have to allow access to your camera and location," Hannon explained. "Once they hit 'allow,' then we can see their camera, and we can get a better location on their GPS."
Hannon said the technology has already helped people, including on the first day the system was used when a mother called 911 about her adult son having a seizure. 
A dispatcher with the office instructed the woman to turn on her camera to assess the situation and found the man "face down on the dirt and not breathing adequately." The dispatcher was able to instruct the woman to turn the man on his side, so he could get air into his lungs. 
"He could suffocate the way he was laying. So [the mom turned the man], and it ended well, but it could have been a little worse," Hannon said. 
Dispatchers for the Guernsey County Sheriff's Office are overseen by Lt. Dustin Best and are all certified in CPR, emergency medical dispatch and public safety telecommunication, which helps bolster the office's ability to immediately and virtually assist citizens dealing with tragedy or dangerous situations.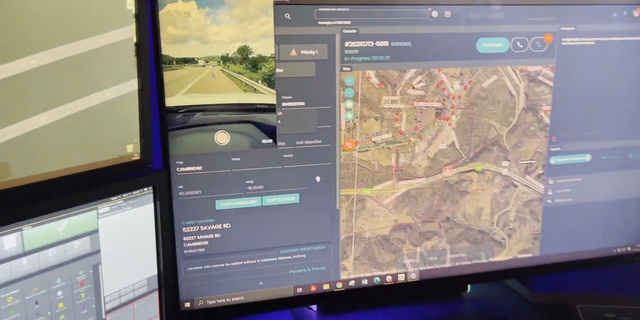 Allowing a live feed of a scene can also flag dispatchers to alert authorities to send a hazmat team and the fire department if they spot hazardous materials or to ensure a car accident was just a fender bender and not a fatality or serious injury, Hannon said. 
911 EMERGENCY CALL WORKERS CLAIM CENTERS ARE UNDERSTAFFED, PLAGUED BY WORKER BURNOUT
Once the 911 call ends, Hannon stressed, dispatchers have no access to the caller's phone "whatsoever," explaining there should be no concern that the 911 call center could go back and access the caller's camera. 
Alex Gruber, Carbyne's vice president of product management, explained to Fox News Digital its call management system, called APEX, replaces hardware and software commonly found at 911 centers with cloud computing. 
He said the video feature of the system is compatible with both SMS and WhatsApp when a person calls 911 and requires no app to be installed on a person's cell phone. Additionally, people calling 911 can send photos to a dispatcher during a call and even switch from the live video feed from a phone's front camera to its back camera. 
"Typically, we're not planning for an emergency, right? So you don't install anything. You just call 911," Gruber said. 
Hannon touted another feature of Carbyne's APEX system that leverages artificial intelligence to triage phone calls, which he said will likely become a "dispatcher's best friend."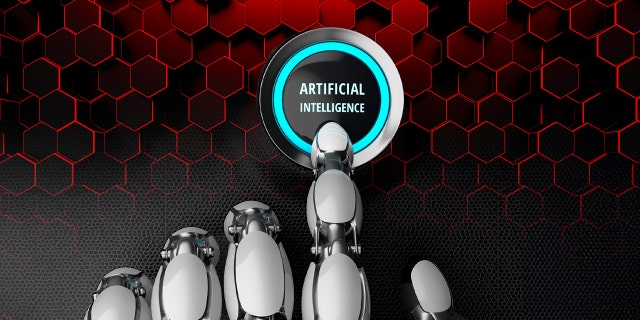 Hannon said he has not used the system firsthand yet but explained that AI will monitor 911 calls to reduce the number of redundant calls and decrease the number of calls in the queue while assisting understaffed call centers. 
Hannon explained that in Guernsey County, for example, there are two massive interstates, 70 and 77, that are often the sites of car crashes, yielding a high amount of repeat 911 calls. 
The Carbyne system, using AI, will recognize the influx of calls coming in and ask callers a series of questions, such as, "Are you calling to report an accident?," "Are you involved in the accident?" and "Are you injured?" If the caller says yes to all the questions, the caller is prioritized and sent to a 911 operator. If someone is only calling to warn authorities about an accident he is not involved in, the report is recorded, and other potentially more serious calls are moved up the queue. 
Gruber said the technology will not take jobs and was instead built to be a tool for humans to make 911 operators' jobs less stressful. 
SHORT-STAFFED 911 CALL CENTERS LEAD TO LONGER WAITS IN EMERGENCIES
"It definitely will not take jobs," Gruber told Fox News Digital. "The intent here is to make very complex, very stressful jobs slightly easier. Because, you know, if you're a call taker and you're seeing that there's 50 people on hold, and you're trying to get to the next call, and you're going to spend an hour trying to get through that right … it's really frustrating as a job. What we're trying to do is just help with that."
Hannon said he anticipates artificial intelligence will likely assist "dispatchers in the future to where their job will be a little less stressful in those agencies that cannot find people to fill the seats."
A recent report from the National Emergency Number Association found an estimated 82% of 911 call centers across the country are understaffed to some degree. Of the operators still in the job, 75% reported in the study they feel burned out.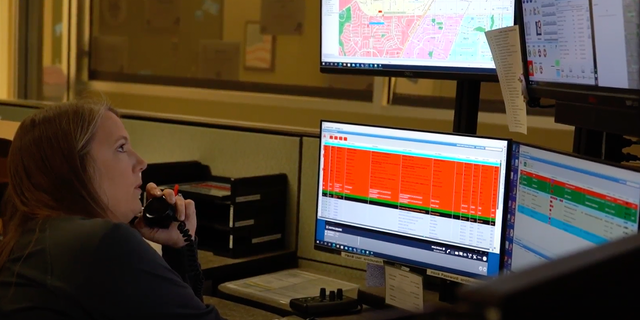 Fox News Digital previously spoke to Christy Williams, director of the North Central Texas Emergency Communications District (NCT911), who touted an AI-powered system being tested that can keep tabs on how many stressful calls an operator answers. The system is intended to help protect dispatchers' mental health and hopefully improve job retention.
"As a 911 telecommunicator, you might spend 45 minutes on a suicide call, hang up and immediately that phone rings and you have to pick it up and say, '911 Where's your emergency' and start working all over again. And, over time, this can really create some severe mental health issues," Williams said. 
The system will monitor calls for keywords and the tone of the caller and keep tabs on whether a call was especially stressful. 
CLICK HERE TO GET THE FOX NEWS APP
AWS' Majerus stressed she and her team have their doors open to potential call center customers to hear straight from their offices what outdated issues could be improved with technology. They then work with vendors, such as Carbyne, to tailor the systems to a specific call center's needs and hopefully save a life. 
"When you think about it, [911 operators] are the first line to … the first responders. And they know that every answer could mean life or death. And any delay could mean a life," she said.