Ask Kurt: Are TiKTok Videos safe to view outside of the app?
Who doesn't get TikTok videos sent to them by friends or family via text or email, leading us to watch them on our current web browser? 'Even if you don't have a TikTok account, it can make you vulnerable to them.
Bellamarie M, who frequently watches TikTok videos outside of the app, wrote to me concerned about this very issue:
"None of our devices have the TikTok app but my husband uses Facebook and occasionally will view a TikTok video, mostly using the phone. Can his data/usage be captured by just viewing or does the app need to be installed on the device being used? Our phones do have a security app installed that scans for security issues but wanted to get your input on the matter."
When it comes to our personal information on social media, we really have to be careful, especially when it comes to TikTok. You see, TikTok is owned by a Chinese company, ByteDance, which is required by law to give data and information they collect to the Chinese government at a moment's notice.  TikTok's fairly advanced algorithm can easily track your search history, leaving me wondering just how much the Chinese government knows about those of us using TikTok.
CLICK TO GET KURT'S CYBERGUY NEWSLETTER WITH QUICK TIPS, TECH REVIEWS, SECURITY ALERTS AND EASY HOW-TO'S TO MAKE YOU SMARTER
Does TikTok follow you outside of the App?
Bellamarie M's concerns are valid, as TikTok has been known to be a more significant threat to one's privacy and security than any other social media app available today. TikTok is known for tracking the behavior of all its users, namely the types of videos they view, like, and share.
INDIANA BLOCKS TIKTOK FROM STATE DEVICES, JOINS 19 OTHER STATES IN LEGISLATION AGAINST THE APP
In addressing Bellamarie's question regarding watching TikTok videos on Facebook, you should be aware of a few things:
1) Sometimes, you'll see videos with the "TikTok" logo on it playing on Facebook. If you watch that video on Facebook, it may be an extracted video living on Facebook. This extracted video does not connect to TikTok; therefore, TikTok can't track you in any capacity. 
2) You may see a thumbnail with a play icon within Facebook, with a grey bar below it indicating that the source is TikTok. If you click that play icon, it will bring you to TikTok on their webpage or in their app. 
Now, if you have an account with TikTok and you're brought to your logged-in page or app to watch this, then some tracking is happening.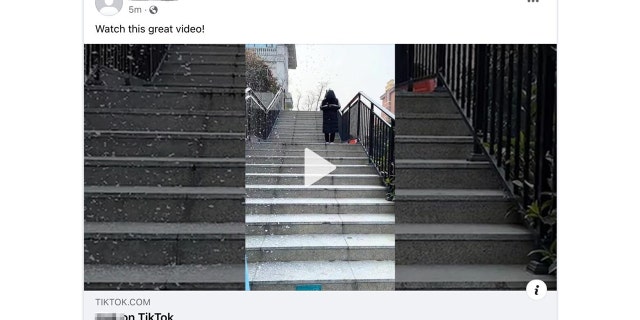 However, suppose you are brought to the non-logged-in TikTok web page to view the video without logging in to a TikTok account. In that case, TikTok might still be tracking you.
GREENWALD CALLS OUT TIKTOK FOR CENSORING ON BEHALF OF US GOVERNMENT, NOT JUST CHINA
According to a Consumer Reports study, TikTok does track certain information, such as your IP address and select browsing history, while you are using the app or website, whether you are logged in to a TikTok account. A spokesperson confirmed, however, that they are only tracking people without a TikTok account for "aggregated reports," not intended to barrage them with ads – instead to "improve the effectiveness" of TikTok's own advertising service by examining their likes and dislikes.
What information is TikTok collecting?
As far as we know, TikTok is not trying to hack into your bank accounts or tamper with your social security. Instead, they follow your behavior on the app and across the internet to determine your interests, likes, and dislikes.
LAWMAKERS RAMP UP WARNINGS ABOUT TIKTOK, CALL FOR NATIONAL BAN: 'THIS IS DIGITAL FENTANYL'
Through pixels, other companies can use this information shared with TikTok for promotional purposes. Should you be watching TikTok videos exclusively on another platform, such as Facebook or Instagram, and have never created a TikTok account, they have access to far less of your information than they would otherwise.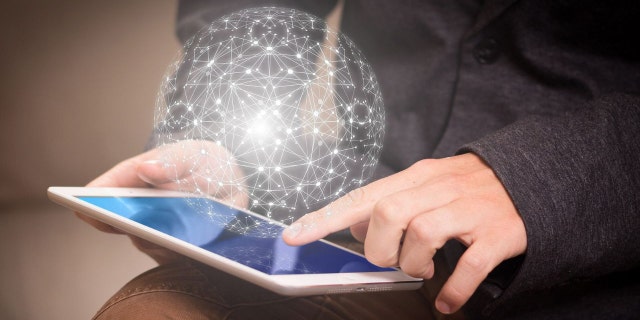 Use TikTok at your own risk
All concerns regarding using TikTok are certainly understandable, and while for some it is irresistible, keep in mind that the smartest way if you are going to use TikTok is to limit as much information you can that TikTok can access from you.
TWITTER UP IN ARMS AS CALLS TO 'BAN TIKTOK' GROW: 'TRUMP WAS RIGHT'
These settings limit how much information TikTok can access from you
Disable sharing your contacts and Facebook friends with TikTok
Disable personalized ad targeting
Keep your profile anonymous
Limit people finding you.
Keep your account private by clicking on profile-> then clicking on the menu bar-> then clicking on settings and privacy-> then clicking on. privacy-> then turn on the private account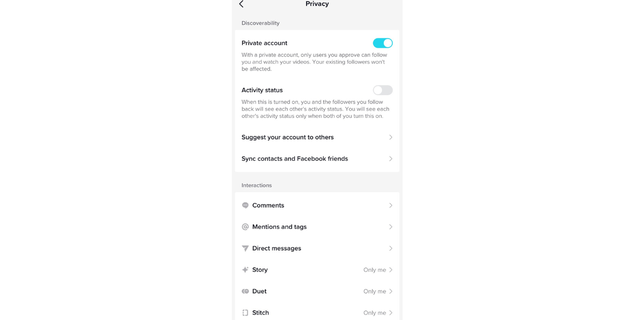 Find out how to adjust all your privacy settings on TikTok by searching "privacy on TikTok" by clicking the magnifying glass icon at the top of CyberGuy.com. 
Find out just how much TikTok knows about you
Anyone who does have a TikTok account has a right to request all data TikTok has collected from them. To do this:
Launch the TikTok app
Go to your profile on the bottom right, then tap the three-line menu at the top right corner
Tap Settings and Privacy > Privacy > tap Download Your Data
TikTok will send you a link in a few days to download your data
The link expires 4 days after being sent
JOE ROGAN SLAMS TIKTOK: 'IT ENDS WITH CHINA HAVING ALL OF YOUR DATA'
Keep in mind there is a lot of data TikTok is collecting that could be used later against you.  The more you use TikTok, the more they know what causes a reaction in you.  TikTok learns and records which videos capture your attention most, and what videos you interact with or like. All it takes is for communist China to decide to take over TikTok to feed you propaganda.  The scariest part is that you'll never know it happening.
CLICK HERE TO GET THE FOX NEWS APP
For more of my Security tips, head over to CyberGuy.com and be sure to subscribe to my free CyberGuy Report Newsletter by clicking the "Free newsletter" link at the top of my website.
Copyright 2023 CyberGuy.com.  All rights reserved.  CyberGuy.com articles and content may contain affiliate links that earn a commission when purchases are made.