Be well: Recognize the warning signs of 'dry drowning' and take quick action
Every year, there are some 4,000 fatal drownings and 8,000 nonfatal drownings in the U.S., per the Centers for Disease Control and Prevention (CDC) — and not all of them meet the textbook definition.
Even if a child appears to be "safe" after a water incident, the child could still be in danger if even a small amount of water has entered the lungs.
Unofficially known as "dry drowning," this condition can cause inflammation or swelling and make it difficult to breathe even after a child is out of the water, according to Dr. Denise Scott, a pediatrician who is co-founder of Oklahoma City's first after-hours pediatric urgent care clinic. 
BE WELL: PREVENT DROWNING WITH THESE CHILD WATER SAFETY TIPS
"While 'dry drowning' is actually not a medical term or diagnosis, it does describe a condition that is a complication of a water event, termed 'post-immersion syndrome,'" Scott told Fox News Digital.
"Post-immersion syndrome, considered a nonfatal drowning, describes an event in which a person was submersed in water but the lungs were not filled with water (thus dry)."
When this occurs, water has been inhaled — not swallowed — through the nose or mouth. 
"Water in the airways can lead to laryngospasm, or vocal cord spasm, making it difficult to breathe," explained Scott, who also works on the JustAnswer.com platform fielding questions about a wide variety of children's health issues. 
"This makes it difficult to get air into the lungs."
CONTAMINATED BEACH WATER COULD MAKE SWIMMERS SICK, WARNS NEW POLLUTION REPORT: 'SEVERAL TROUBLING TRENDS'
Post-immersion syndrome can occur after anyone has been in any body of water, whether it's a lake, swimming pool, bathtub or hot tub.
"Technically, any drowning is the result of not getting air in the lungs, whether the lungs are wet or dry," Scott said. 
Warning signs of 'dry drowning'
The most obvious sign of post-immersion syndrome is excessive or continuous coughing, Scott said.
"If someone inhales water, their response is to cough, which often expels the water," the doctor said. "The concern is when the cough continues after an episode of 30 to 60 minutes or longer."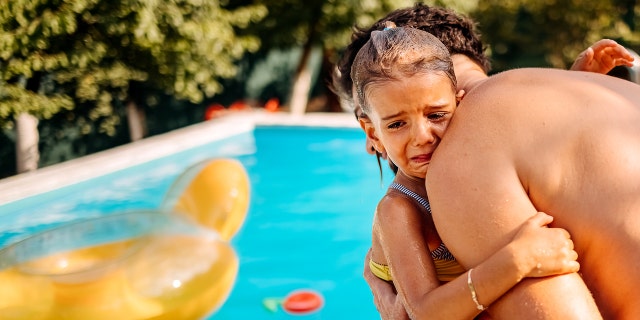 Other warning signs that occur immediately after an episode or within an hour include difficulty breathing or speaking, rapid and hard breathing, chest pain, wheezing or vomiting.
Later symptoms, usually within two to three hours, can include confusion, sleepiness, and continued coughing and breathing difficulties, all of which can be signs of decreased oxygen, said Scott.
Quick action is key
"A child who has either been rescued from water or inhaled water and has any of the above symptoms should be taken in for a medical evaluation," Scott said. "For any child who is not breathing, CPR should be given and 911 should be called."
A child with symptoms of post-immersion syndrome usually will be observed at the hospital for up to eight hours before the physician decides whether to pursue further treatment, Scott said.
SUMMER MELTDOWNS: HERE'S HOW EXTREME HEAT CAN AFFECT YOUR MOOD AND MENTAL HEALTH
"Keeping a child calm can sometimes help the muscle spasms to relax," she added.
Although this condition is uncommon, it can be fatal if symptoms aren't addressed and lack of oxygen occurs, the doctor said. 
"A severe laryngospasm that isn't relieved ultimately can lead to lack of oxygen and cardiac arrest," she warned. "Long-term effects are the result of poor oxygen to any organ system, especially the brain, which can result in seizures or brain damage."
Know the prevention tips
Drowning is the most common cause of unintentional death in children between ages 1 and 4 and the second leading cause of death in children between ages 5 and 14, per the CDC. 
Most drownings are preventable.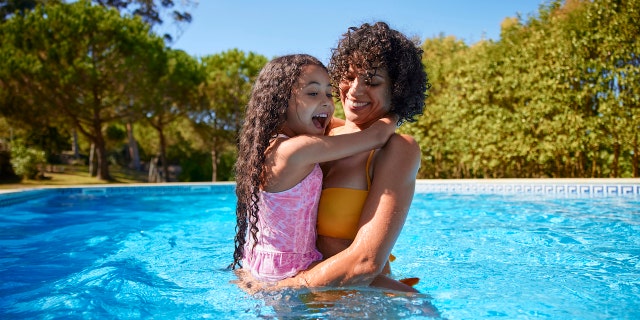 "First and foremost, children should never swim unsupervised or alone," Scott said. 
"Young children who cannot swim should have an adult within arm's reach and wear a personal flotation device."
Private swimming pools should have a fence around them to prevent someone from wandering in, she went on. Children should always wear life vests when they're near or around lakes. 
CLICK HERE TO SIGN UP FOR OUR HEALTH NEWSLETTER
While it's a good idea to have young children take swim lessons, Scott emphasized that it is not a safeguard, nor should it give a false sense of security or take the place of close adult supervision.
Parents also should learn CPR, she added.
CLICK HERE TO GET THE FOX NEWS APP
While post-immersion syndrome can happen to someone at any age, children are at the greatest risk, Scott said.
"Adults and teens are more likely to be at risk if they go swimming after consuming alcohol, but anyone can accidentally inhale water when submersed," she said. 
"The vast majority of the time, this clears up with coughing. For persistent symptoms, one should seek medical care."