Free digital perks you may be missing out on by not having a library card
You may think a visit to your local library isn't worth your time now with devices like Kindles to read all our favorite books.  The truth is that if you are strolling through life without a library card, you may be missing out on some incredible free digital perks.
CLICK TO GET KURT'S FREE CYBERGUY NEWSLETTER WITH QUICK TIPS, TECH REVIEWS, SECURITY ALERTS AND EASY HOW-TO'S TO MAKE YOU SMARTER
It costs you absolutely nothing to get a library card in most cases and having one could actually save you lots of money in the long run. Take a look at all the perks you could be getting below.
1. Libby
iPhone: 4.8 stars (at the time of publishing)
Android: 4.7 stars (at the time of publishing)
DON'T FALL FOR THIS SNEAKY NOTIFICATION THAT'S FOOLING PEOPLE ON FACEBOOK AND INSTAGRAM
There are a number of apps that let you hook up your library card to borrow books, audiobooks, comic books, and even movies or TV shows for free.  One of those apps is Libby, which is an incredible resource for any book fan because it's free to download and connects with the Kindle app and even your actual Kindle if you have one.
Libby works with about 90% of the libraries around the U.S., and it has both books and audiobooks. Plus, it works just like a library does, only virtually. You can even get on waiting lists ahead of a big book release, and while it may be a little bit of a wait for a popular book, you'll be able to read it eventually for no charge.
Note: Different apps around the country have partnered with other ebook lending services, so be sure to reach out to your local library to see if there's another app getting priority.
MORE: SIMPLE IPHONE HACK MAKES READING APP MAKES READING EVERY APP EASIER
2. Hoopla
iPhone: 4.8 stars (at the time of publishing)
Android: 4.7 stars (at the time of publishing)
AI-POWERED ROBOT MOWER CUTS YOUR LAWN AS YOU SIT BACK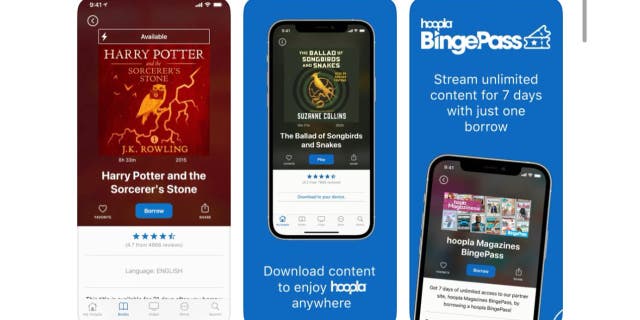 Hoopla is a platform that offers fewer new and popular releases and a ton of niche and hard-to-find content. However, it still offers ebooks, audiobooks, music, movies, TV shows and over 25,000 comic books, all free with your library card. Hoopla offers streaming through your library card as well, and you can instantly stream or download for offline reading, watching and listening. It's available 24/7 and has no late fees for borrowed ebooks. There's even a kids mode so that your child can enjoy family-friendly content.
3. Kanopy
iPhone: 4.8 stars (at the time of publishing)
Android: 4.3 stars (at the time of publishing)
8 INCREDIBLY USEFUL THINGS YOU CAN DO WITH AIRPODS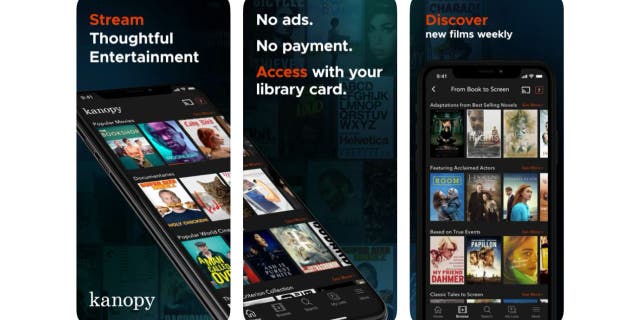 Kanopy partners with public libraries and universities to give library cardholders access to free movies, documentaries, foreign films, classic cinema, independent films and educational videos. You can watch everything completely ad-free and for no additional cost. You can also browse Kanopy Kids for unlimited age-appropriate shows and movies with access to parental controls.
MORE: MOVE OVER, SIRI: APPLE'S NEW AUDIOBOOK AI VOICE SOUNDS LIKE A HUMAN
4. PressReader
iPhone: 4.6 stars (at the time of publishing)
Android: 4.5 stars (at the time of publishing)
NEBRASKA MAN GETS 3D-PRINTED FINGER REPLACEMENT 20 YEARS AFTER TRAGIC MISHAP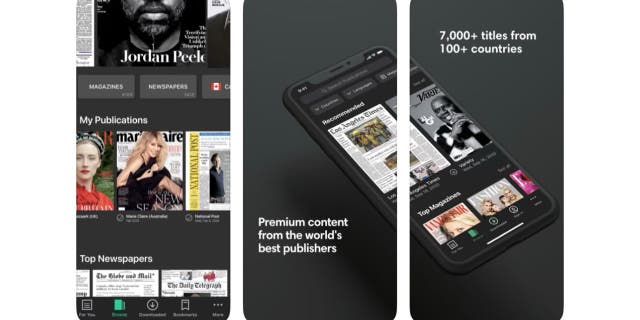 Some libraries also give free access to the PressReader app with a library card. PressReader gives access to thousands of magazine and newspaper titles so that you can stay up-to-date with the latest news. It has over 7,000 publications from all over the globe, and you can have unlimited reading on up to five devices. You can toggle between the original print view and a mobile-optimized text view. Plus, you can bring all your reading to life with listening mode, one-touch translation and dynamic commenting.
5. Live tutoring
Another common offering at most libraries is free tutoring for learning a foreign language. Some offer both online and in-person classes for a variety of languages, and all you have to do is show your library card to sign up. And aside from foreign languages, lots of libraries also offer tutoring in school subjects like math and science. Contact your local library and see if they offer this service.
FOR MORE OF MY TIPS, SUBSCRIBE TO MY FREE CYBERGUY REPORT NEWSLETTER BY HEADING TO CYBERGUY.COM/NEWSLETTER
6 EFFECTIVE WAYS TO STOP GOOGLE FROM KNOWING EVERYTHING ABOUT YOU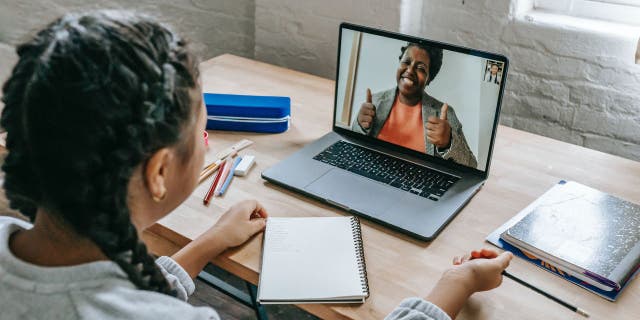 6. Career advice
Many libraries will offer free courses with LinkedIn Learning online to help with career advice, such as developing a business, learning technological skills, and even creative skills. Depending on the library, you might even find options for more specialized job training. Contact your local library and see if they offer this service.
ANDROID SECRET TIP: HOW TO MAKE YOUR PHONE SHOW A SPLIT SCREEN
7. Financial coaching
Many libraries also have free financial services like getting legal forms and even receiving coaching for tax season and other financial endeavors. You likely can also get access to investment research, learn about your genealogy, and more. Contact your local library and see if they offer this service.
Final Thoughts
Don't miss out on the free digital perks of having a library card, from borrowing ebooks and audiobooks with apps like Libby and Hoopla to accessing free movies and career advice through Kanopy and LinkedIn Learning. Contact your local library to see what other free services and resources they offer.
Have you gotten your library card yet? Let us know which services and perks you are using by writing us at Cyberguy.com/Contact
For more of my tips, subscribe to my free CyberGuy Report Newsletter by heading to CyberGuy.com/Newsletter
Copyright 2023 CyberGuy.com.  All rights reserved.