How to avoid vacation rental scams
We recently received an alarming message from one of our readers, Kurt, from Victorville, California, about a vacation rental scam. Here's what he has to share. 
"Beware of vacation rental scammers. My brother-in-law owns a vacation rental in Fiji and someone set up a fake listing for it on booking.com. He received a text from someone who booked a time in July but had not yet paid. The villa is already booked through the summer so my brother-in-law knew something was awry.  
The fake and real listings appear together on the same booking.com page and in the app. The potential renter already purchased non-refundable flights to the location, but fortunately double-checked before making the required wire payment in full within 24 hours to an overseas bank. It should be noted that there were a lot of red flags the renter missed." 
-  Kurt, Victorville, CA 
Vacation rental scams are showing up more and more. For those who are looking to book a short-term rental, it can be tough to determine what's real and what's a scam. So, it's important to know the signs of a scam before you book a place in paradise to avoid any chances of your information being stolen. Here are some of my biggest red flags to watch out for. 
CLICK TO GET KURT'S FREE CYBERGUY NEWSLETTER WITH SECURITY ALERTS, QUICK TIPS, TECH REVIEWS AND EASY HOW-TO'S TO MAKE YOU SMARTER
1. Check for reviews 
The first thing you should do before renting a place, especially if it's for a vacation, is to check the reviews on the site. Any booking site like booking.com, Airbnb, Vrbo, etc., should have a section for people who have previously stayed in these rentals to leave reviews. If you find that the place you're looking at has little to no reviews, then that's a red flag. 
Sure, there is a chance that the property is a newly listed one that has not had a ton of previous renters. The real listing for the property that Kurt's brother-in-law owns, for example, only has 3 reviews.  However, the fake listing had 0 reviews on it, so you should proceed with extra caution if that is the case. 
2. Look at the person's profile 
It's always helpful if the person to whom the listing belongs should have a profile under the listing. As you can see, Kurt's brother-in-law has a picture of himself with a short and sweet description of what he and his wife like to do. A scammer may not always go to these lengths to try to make themselves look like a real person. So if you ever see a listing and the lister refuses to identify themselves, that could be a big red flag.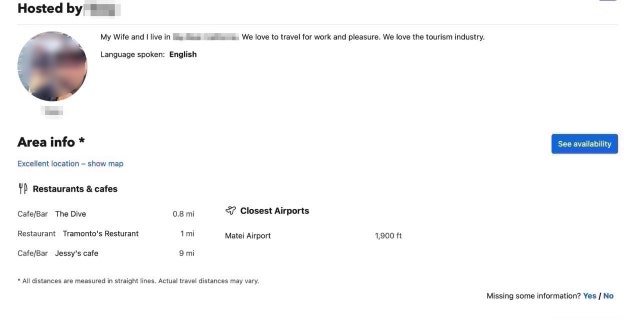 AIRLINE TRAVELER DUCKS BAGGAGE FEES BY DOING THIS WITH A FISHING VEST
3. Make sure the price isn't too good to be true 
Prices tend to go up depending on the time of year and where you're going. For example, a house in the Hamptons will likely be a lot cheaper to rent in January than it would be in July. If you're looking in a specific area for a place to rent and you notice that there is one listing that is significantly lower than the other listings in that area, there's a chance that that listing could be a scam. The scammer might advertise that they are giving potential renters a rare opportunity that is going to disappear fast, hoping to draw in first-time renters, out-of-state renters, or renters who are in a rush to find a place. 
Double-check other rentals in the area 
To make sure that it is not a scam, double-check other rentals in the area you're looking at with similar amenities. You can also use a rental calculator like Rent Zestimate to see what the price of a certain rental is expected to be based on what it is offering. 
Ask why the price is so low 
Before committing to anything, ask the lister why the price is so low, and make sure you keep a copy of all your communication with them. 
FOR MORE OF MY SECURITY ALERTS, SUBSCRIBE TO MY FREE CYBERGUY REPORT NEWSLETTER BY HEADING TO CYBERGUY.COM/NEWSLETTER  
ARE YOU BEING WATCHED IN YOUR NEXT VACATION RENTAL?   
4. Take note of how the listing asks for payment 
If a lister requests that you pay for the rental in cash, wire transfer, or money order, that is a big scamming red flag. Once you send money this way, you'll have difficulty tracing any payment if the property turns out to be a scam. Kurt's message above even states that the person who got scammed with his brother-in-law's property was asked by the scammer to wire money over. 
Many legit rental listings will ask you to make a payment via electronic deposit from your bank account or with a credit card or check. Some other larger properties may even have a website with a portal where you can pay online. These are all traceable options where there is little to no room for you to be scammed. 
5. Check that the listing is legitimate 
A big clue to a rental listing being a scam is if you come across the same listing on a different rental site and the name of the person who listed it is different from what you originally saw. A scammer can easily get the information for a legitimate listing and change the contact information to make it look like they listed it themselves.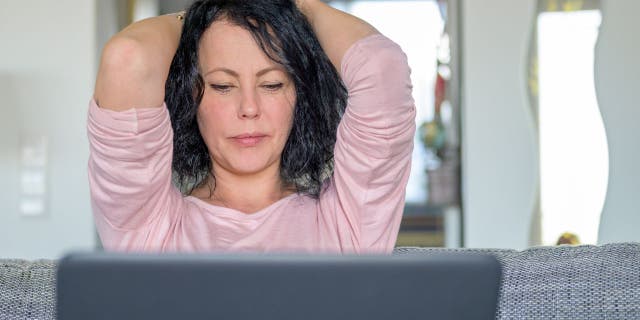 Always check to see if a rental you are interested in appears on various sites online, and if the contact information is different for each one, then it's probably a scam. Also, be sure to use reputable rental listing websites like Zillow, Trulia, Apartments.com, booking.com, Airbnb, and Vrbo. These websites usually have a verification process to ensure that the property and landlord are legitimate. 
BEWARE OF RISE IN SHORT-TERM VACATION RENTAL SCAMS 
6. Do not give out personal information 
You should never give away your personal information before viewing a property. It is commonplace for potential renters to be allowed to view a property without providing any personal information, especially a social security number, date of birth, or credit card number, and you should not be asked to make any type of payment before viewing the rental either. 
If you are not able to see the property in person, request an online tour or send an agent or a friend on your behalf. 
Kurt's key takeaways 
Most of all, trust your instincts. If something seems too good to be true, it probably is. Go with your gut and avoid properties that seem suspicious or listers who seem overly pushy. Remember, you've never met these people, and you have no idea what they're capable of. Although I don't think you need to be super paranoid about it, it's just best to have your guard up and use your common sense. 
CLICK HERE TO GET THE FOX NEWS APP
What positive or negative experiences have you had when booking a vacation property? Let us know by writing us at CyberGuy.com/Contact 
For more of my security alerts, subscribe to my free CyberGuy Report Newsletter by heading to CyberGuy.com/Newsletter 
Copyright 2023 CyberGuy.com.  All rights reserved.