How to find anything on an Apple iPhone, iPad and Mac
Apple has a feature that can make your searches a bit easier, and it's called Spotlight Search. It is available on all iPhones, iPads, and Macs that have an iOS 8 update or later.
What is Spotlight Search?
The purpose of Spotlight Search is to cut down the time wasted looking around for a specific app on your phone or a photo you might have sent to a friend weeks ago. Instead, you can type something into Spotlight Search, which will scan your entire device for anything related to the term you've typed.
CLICK TO GET KURT'S CYBERGUY NEWSLETTER WITH QUICK TIPS, TECH REVIEWS, SECURITY ALERTS AND EASY HOW-TO'S TO MAKE YOU SMARTER
Spotlight Search can search for many things, including your music, contacts, email, weather, calendar, maps, news and more. It can even bring in outside results from the internet and App Store. Or suppose you want to do a quick math equation, currency conversion, measurement conversion, or temperature conversion. In that case, Spotlight Search will instantly give you the answer you're looking for.
HOW TO CHANGE YOUR FONT SIZE ON AN IPHONE
Why is Spotlight Search better than searching in specific apps?
Spotlight Search ultimately pulls more content for you, giving you all the options you need on one page rather than having to open multiple different apps to search for something. Let's say, for example, you wanted to listen to Billy Joel's song "Piano Man." 
You can type in "Billy Joel 'Piano Man'" into your Spotlight Search. It will give you a tab to go straight to the song on Apple Music and provide you with website links to his music videos and the Wikipedia page to the song's history, so you can get way more out of your search.
HOW TO STOP YOUR CELL PHONE FROM DYING SO FAST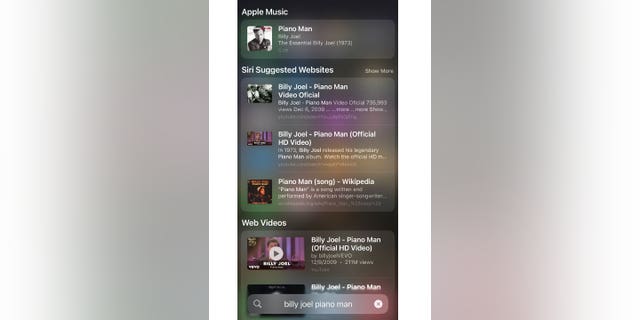 How to open Spotlight Search on your iPhone or iPad
If you have the iOS 16 update or above:
It can be accessed by swiping down from the middle of your home screen
Click the Search circle (may also appear as a few horizontal dots) on the first page of your home screen just above your Phone, Email, Safari and Apple Music apps. This will automatically open Spotlight Search.
WHICH APPS ARE DRAINING YOUR PHONE'S BATTERY?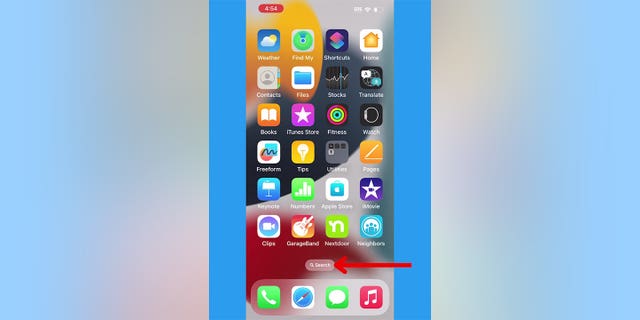 If you have the iOS 15 update or below:
Unlock your iPhone or iPad to reveal your home screen
Swipe left from the first page of your home screen, and then you will see the search window.
WHY A GREEN AND ORANGE DOT ON YOUR PHONE CAN INDICATE SOMEONE LISTENING AND WATCHING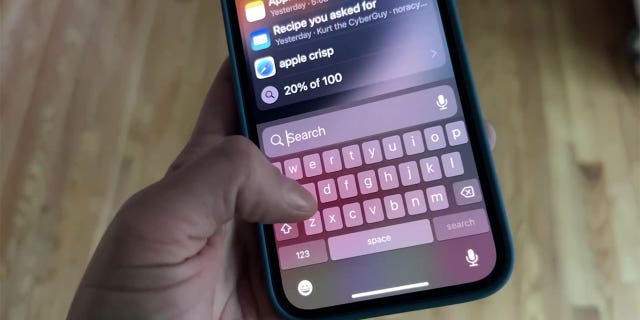 How to open Spotlight Search on your Mac
Look at the top bar going across your Mac home screen (where the Apple Icon, File, Edit, etc. options are)
On the right side of that bar next to your Wi-Fi icon, there should be a magnifying glass icon. Click that to open Spotlight Search.
Note: instructions may vary depending on model
HOW TO REMOVE YOUR LOCATION FROM PHOTOS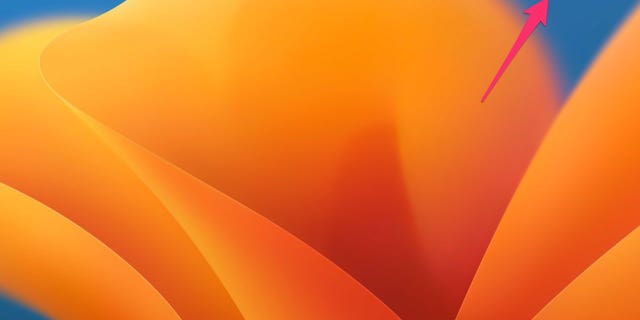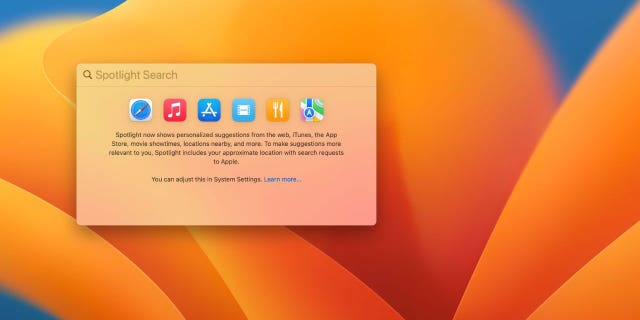 How to change search settings on an Apple device
You can change the search settings to limit which apps and results appear while you're searching. Here's how:
Go to Settings and tap Siri & Search
Scroll down and select an app
Then select Show App in Search, Show Content in Search, Show on Home Screen, Suggest App, or Suggest Notifications.
Let us know how you like this new Apple search feature. We'd love to hear from you.
CLICK HERE TO GET THE FOX NEWS APP
For more Apple tips, head over to CyberGuy.com and search "Apple" by clicking the magnifying glass at the top of my website. And be sure to subscribe to my free CyberGuy Report Newsletter by clicking the "Free newsletter" link at the top of my website.
Copyright 2023 CyberGuy.com. All rights reserved. CyberGuy.com articles and content may contain affiliate links that earn a commission when purchases are made.