How you can claim part of the $23 million Google privacy settlement
Google has just agreed to a $23 million settlement after it was found that the tech giant shared searches with third-party websites and companies without explicit user authorization or explicit user agreement. It may seem like a lot of money, but it's a drop in the bucket, considering that $23M is about 0.0082% of the nearly 280 billion dollars the company generates annually, with most of it being powered by advertising. According to the notice of proposed settlement of the class action case, Google agreed to the payout; however, it is refuting allegations that it shared the information and stated that the settlement is not an admission of wrongdoing. 
CLICK TO GET KURT'S FREE CYBERGUY NEWSLETTER WITH SECURITY ALERTS, QUICK TIPS, TECH REVIEWS AND EASY HOW-TO'S TO MAKE YOU SMARTER 
What is Google accused of doing that led to this settlement? 
The whole basis of the class action lawsuit is about Google compromising the privacy of people who used Google to search for information by, according to the lawsuit, "storing and intentionally, systematically and repeatedly divulging" their search queries and histories with third parties without any previous consent given. 
The lawsuit contends that Google search queries frequently included sensitive and personally identifiable data, such as users' actual names, residential addresses, contact numbers, credit card details, Social Security numbers, financial account numbers, and other information that significantly increased the likelihood of identity theft. 
As part of the settlement, Google has also agreed to revise its "FAQs" and "Key Terms" webpages regarding the disclosure of search queries via referrer headers with third parties. This disclosure is important as it helps Google users understand how their search queries may be shared when they click on search results and navigate to other websites. 
What are the settlement benefits? 
Within Google's settlement agreement, settlement class members can receive an equal share of the net settlement fund. The amount of money that each settlement class member is expected to receive is not much – only about $7.70. However, this number is only an estimate and can end up being higher or lower, depending on how many settlement class members file claims. 
Do I qualify to file a claim? 
HOW TO ADD YOUR FAVORITE WEBSITES TO. YOUR DEVICE'S HOME SCREEN
This $23 million settlement will benefit any Google Search users who clicked on a search result in the United States between Oct. 26, 2006, and Sept. 30, 2013. Odds are, there are going to be tons of people out there who fall under this category, which is why that $7.70 per person amount is only an estimate and not a guaranteed income for anyone. 
How do I file a claim, and by when? 
If you think you're owed money from Google, you can file a claim by going to the settlement website and filling out the required online form or print out and complete a form and mail it in to: 
Settlement Administrator 
In re Google Referrer Header Privacy Settlement 
c/o Kroll Settlement Administration 
P.O. Box 225391 
New York, NY, 10150-5391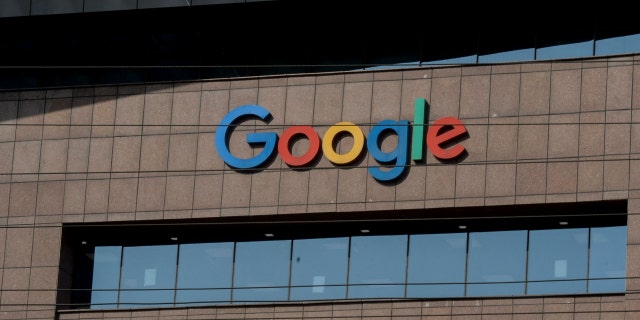 Claims must be filed online or postmarked by 11:59 p.m. Pacific time on July 31. The final approval hearing for the Google settlement is scheduled for Oct. 12, 2023. 
TO GET ALERTS LIKE THIS AND MORE OF MY TECH TIPS, SUBSCRIBE TO MY FREE CYBERGUY REPORT NEWSLETTER BY HEADING TO CYBERGUY.COM/NEWSLETTER  
What if I want to avoid the hassle of filing a claim? 
6 EFFECTIVE WAYS TO STOP GOOGLE FROM KNOWING EVERYTHING ABOUT YOU 
If you wish to avoid the hassle of filing a claim, there are alternative courses of action available to you. These options include choosing not to take any action, opting out of the settlement entirely or raising an objection if you believe that the settlement should not receive approval. 
The deadline to object to or be excluded from the settlement is also July 31. 
Remember, if you do submit a claim like this, it is under the penalty of perjury. If you're unsure whether you qualify to receive money from this settlement, you should first look at the FAQ page of the settlement administrator's website.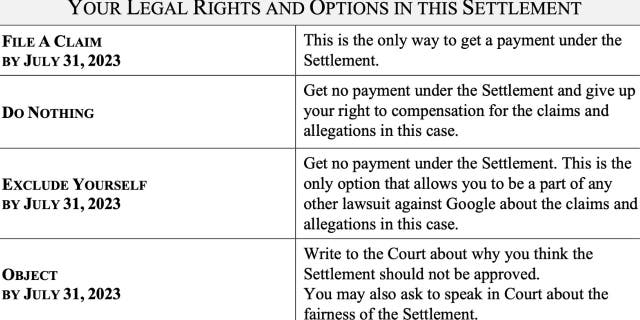 Kurt's key takeaways 
It's a shame that Google was found to be sharing private information with third parties, but it's not a surprise, which is why paying back their users only seems right to me. As you'll recall, last year, Meta, Facebook's parent company, agreed to pay $725 million to resolve a similar class action lawsuit related to its mishandling of user data. Don't miss out on the opportunity to hold Google accountable. Make sure you file your claim before the end of July so that you can get the money that you deserve. 
CLICK HERE TO GET THE FOX NEWS APP
Should Google have to do more than simply pay a settlement for its wrongdoings? Is it enough of a payout? What other consequences do you think there should be? Let us know by writing us at CyberGuy.com/Contact 
To get alerts like this and more of my tech tips, subscribe to my free CyberGuy Report Newsletter by heading to CyberGuy.com/Newsletter 
Copyright 2023 CyberGuy.com.  All rights reserved.