Kids as young as 4 years old can begin to learn medical emergency training: New report
Teaching children basic life support knowledge can start as early as four years old, according to a new scientific statement from the International Liaison Committee on Resuscitation (ILCOR), the American Heart Association and the European Resuscitation Council.
The group said that building the skills for cardiopulmonary resuscitation (CPR) can start at age four — and be developed over time through routine training.
By the time children have reached 10 years old, they then may be able to perform effective chest compressions on manikins, said the statement published in Circulation, the American Heart Association's journal. 
AI AND HEART HEALTH: MACHINES DO A BETTER JOB OF READING ULTRASOUNDS THAN SONOGRAPHERS DO, SAYS STUDY 
It detailed evidence showing that schoolchildren as young as age four know how to call for help in a medical emergency — and that, by the ages of 10-12, they can even administer effective chest compressions when performing CPR.
The statement also said that kids can become aware of automated external defibrillators (AEDs) and begin learning the steps and rhythm of CPR. 
"Building skills at a young age that are reinforced consistently throughout their years in school has the potential to educate generations of students and their parents on how to respond to cardiac arrest, perform chest compressions and rescue breaths, use an AED and ultimately increase survival," Comilla Sasson, M.D., PhD and a member of the statement-writing committee, said in a news release. 
BE WELL: FLOSS YOUR TEETH DAILY FOR BETTER HEART HEALTH
Sasson, an emergency physician based in the Denver area who serves as vice president for science and innovation at the American Heart Association, said all family members should know what to do in the event of a cardiac arrest (when the heart stops beating) — since it occurs most often outside a hospital setting. 
'Multiply' their training
The report authors reviewed over 100 research articles about training students in CPR. 
They found that school-aged children are highly motivated to learn life-saving skills and often "multiply" their training by sharing what they have learned with others, the news release said. 
School-aged children are highly motivated to learn life-saving skills.
"Training students has become a key element to increase the number of people ready to perform CPR when cardiac arrest occurs outside a hospital, and potentially increase rates of CPR and cardiac arrest survival globally," Dr. Bernd W. Böttiger, chair of the statement-writing group and head of the Department of Anesthesiology and Intensive Care Medicine at the University Hospital of Cologne in Cologne, Germany, said in a news release.
The authors recommended a combination of theoretical and practical training in schools and using social media tools to help share lifesaving skills.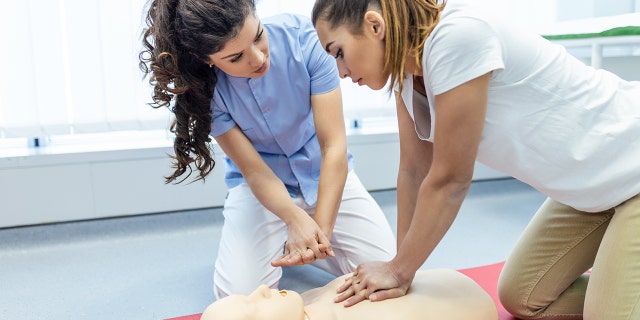 Worldwide, cardiac arrest that occurs away from a hospital setting is a leading cause of death, with survival rates range between 2% and 20% globally, according to the report. 
These rates are especially low when a bystander does not take immediate action, the news release said. 
"With survival rates of 2% to 20% for out-of-hospital cardiac arrest, this study delineates the significance of children and their ability to respond not only in a timely manner but also provide care in a critical period for a patient or possibly even a friend or family member," said Dr. Zachary Hena, M.D., a pediatric cardiologist at Hassenfeld Children's Hospital at NYU Langone in New York City, who was not associated with the report.
"The sooner we can encourage kids to know what to do in emergencies, the better."
Hena also told Fox News Digital, "We know the time from when someone is down to [the] time to starting chest compressions and/or delivering an effective shock if necessary improves survival and outcomes. Effectively, kids can save lives from this study — but more importantly, kids will save lives," he added. 
COVID PUBLIC HEALTH EMERGENCY IS OVER: HERE'S WHAT IT MEANS FOR YOU
Dr. Kendra Hoepper, a pediatric nurse practitioner and an associate professor and program director of nursing at Dominican University of California in San Rafael, told Fox News Digital that it's important to implement a tiered type of training program regarding CPR and first aid in children. 
That way, kids can feel more comfortable and not be fearful of reacting.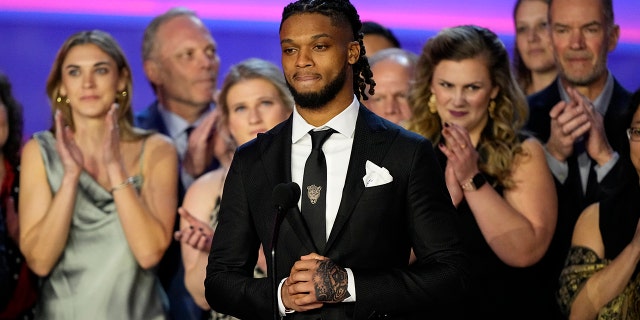 Despite their young age, she said even a 4-year-old could be helpful in an emergency.
"The sooner we can encourage kids to know what to do in emergencies, the better," she said.
"Let's say a parent or grandparent collapses in the home — [children] may not know how to check a pulse or for breathing, but they can recognize when something is wrong and they should know to call 9-1-1." 
"The 4-year-old can at least talk to someone on the phone who would then be able to instruct the child."
She added, "The 4-year-old can at least talk to someone on the phone who would then be able to instruct the child on what to do until emergency services arrive."
Hoepper and some of her former colleagues at Molloy University in Rockville Center, New York, partnered with local schools and organizations such as the Girls Scouts and Boy Scouts to help educate the community on the American Heart Association's "Hands On Only" CPR training through formal classes and pop-up tent events.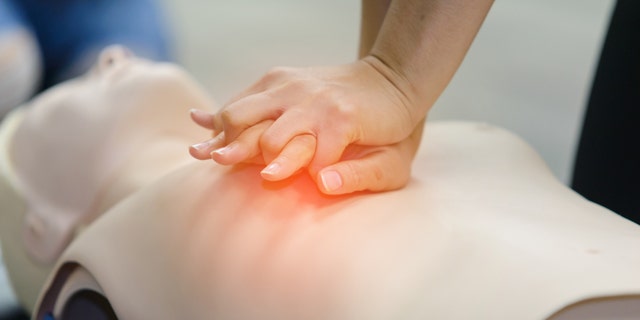 Debra McWilliams, MS, RN, director of Interprofessional Simulation at Long Island University Post in Brookville, New York, said of the report, "We know that every second counts when it comes to helping someone who has collapsed from a cardiac event."
CLICK HERE TO SIGN UP FOR OUR HEALTH NEWSLETTER
She added, "Many people witnessed the collapse of Buffalo Bills football player Damar Hamlin on the field this past year. Within seconds, team trainers provided CPR and used an automated external defibrillator (AED) to restart his heart." 
CLICK HERE TO GET THE FOX NEWS APP
McWilliams and her nursing students recently taught CPR to the LIU community.
She said, "Knowledge is power. Educating people of all ages, children to adults, will have a positive ripple effect. This lesson can literally save lives."