NASA's James Webb Space Telescope and Chandra X-ray Observatory combined powers in four dazzling celestial images released Tuesday. 
The composite pictures show galaxies, a nebula and a star cluster in hues of bright purple and burnt orange, against the dark backdrop of space.
Each image combines Chandra's X-rays with infrared data from previously released Webb images. 
Both forms of light are invisible to the naked eye.
NASA'S WEBB SPACE TELESCOPE FINDS WATER AROUND MYSTERIOUS MAIN BELT COMET
The agency said that data from the Hubble Space Telescope and Spitzer Space Telescope, and the European Space Agency XMM-Newton and the European Southern Observatory's New Technology Telescope was also used. 
"These cosmic wonders and details are made available by mapping the data to colors that humans can perceive," NASA explained in an accompanying release.
The images include the spiral galaxies NGC 1672 and Messier 74.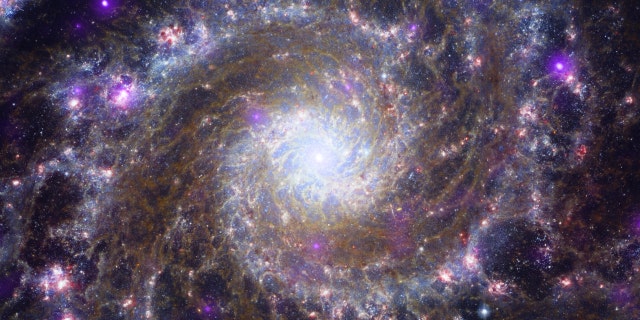 NGC 1672 is a "barred" spiral, with data from Chandra revealing neutron stars or black holes and Webb data showing the dust and gas in its arms. 
NEIL DEGRASSE TYSON SAYS JAMES WEBB SPACE TELESCOPE IS WINDOW TO UNIVERSE 'NEVER BEFORE ACHIEVED'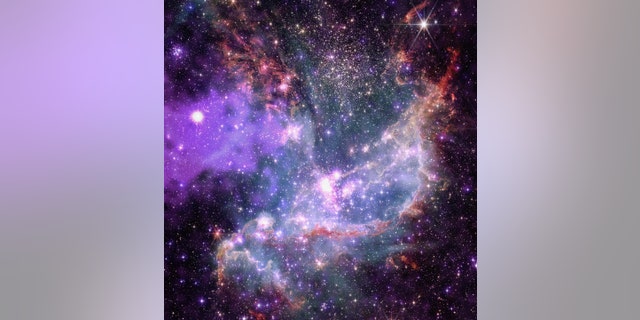 Messier 74 is about 32 million light-years away from Earth and is nicknamed the Phantom Galaxy. Webb shows gas and dust in the infrared, while Chandra data spotlights high-energy activity from stars at X-ray wavelengths. 
Conversely, the star cluster NGC 346 is just around 200,000 light-years from Earth in the Small Magellanic cloud. Webb revealed plumes and arcs of gas and dust that planets use during their formation. Chyandra data also reveals young hot and massive stars and the purple cloud on the left of the image is the remains of a supernova explosion from a massive star.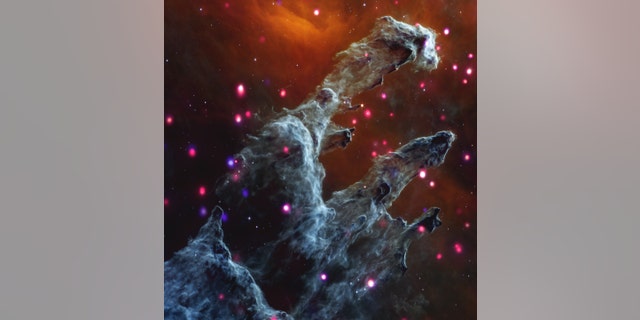 CLICK HERE TO GET THE FOX NEWS APP 
Finally, astronomy fans may recognize the image of Messier 16, also known as the Eagle Nebula. It is a famous region of sky that is commonly referred to as the "Pillars of Creation." 
"The Webb image shows the dark columns of gas and dust shrouding the few remaining fledgling stars just being formed. The Chandra sources, which look like dots, are young stars that give off copious amounts of X-rays," NASA said.