Cancer patients looking for quick answers or support between their appointments can now turn to "Dave," an artificial intelligence chatbot trained to discuss all things related to oncology.
Launched earlier this month by Belong.Life, a New York-based health technology company, Dave is described as the world's first conversational AI oncology mentor for cancer patients.
"Dave has aided patients in understanding their situations and equipping them with valuable information to engage in informed discussions with their physicians," said Irad Deutsch, co-founder and CTO of Belong, in an interview with Fox News Digital.
AI SHOWN TO PREDICT RISK OF PANCREATIC CANCER WELL BEFORE SYMPTOMS APPEAR
Some of the most common questions include potential treatments for diagnoses and what to expect in terms of side effects, he said.
Dave is a large language model (LLM) that is similar to ChatGPT. Yet instead of being trained on more general data, it focuses only on cancer-related topics.
Inspired by personal experiences
"The founders of Belong, along with many members of our company, have witnessed firsthand the impact of cancer on our families," Deutsch said. 
"We understand the immense stress that arises when questions arise, even at 2 a.m., and there's no one available to provide answers."
The team's goal in creating Dave, he said, was to alleviate patients' stress levels and reduce their anxiety by delivering comprehensive, real-time answers around the clock.
The chatbot was named after the biblical King David, Deutsch said, who employed his wisdom to triumph over Goliath. 
STUDENTS USE AI TECHNOLOGY TO FIND NEW BRAIN TUMOR THERAPY TARGETS — WITH A GOAL OF FIGHTING DISEASE FASTER
"In our pursuit to assist patients in conquering their own Goliath (cancer), we believe that Dave can empower them with the wisdom necessary to make intelligent and informed decisions," he said.
Although it's an AI model, Dave is designed to communicate with empathy, Deutsch noted.
"This empathetic approach is particularly crucial for cancer patients, who find themselves in a highly sensitive phase of their lives," he said.
Where Dave gets its data
Dave was trained on "billions of data points" from seven years' worth of interactions between patients and physicians.
These interactions were aggregated from Belong's Beating Cancer Together app, a social and professional network for cancer patients, according to Deutsch.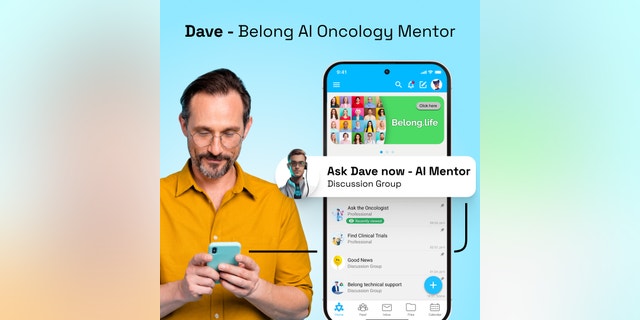 "The engine operates by harnessing the power of two LLMs, one sourced from OpenAI and another open-source engine, which synergistically complement each other," Deutsch said.
Its sources include patient-physician chats, patient-patient chats, documents and patient-reported outcomes.
Additionally, Dave regularly draws the latest data from reputable internet sources, giving it a deep knowledge of cancer treatment guidelines, Deutsch said.
Dave in action
More than 10,000 people with cancer to date have tested the AI cancer chatbot — including Mark Werner, a construction company owner from the Atlanta area. He was diagnosed in 2018 with multiple myeloma, a rare blood cancer. 
Werner has been using Belong's Beating Cancer Together app since 2021, connecting with other patients and getting support while navigating his own cancer journey.
"[Dave] alleviates patients' stress levels [and] reduces the amount of time physicians need to spend educating patients."
After having fought cancer for the last five years, Werner said he is fairly knowledgeable about his disease. Still, he often uses Dave as a "sounding board" to verify his take on a particular subject.
"I also read many of the questions that other people ask, and I've found Dave's answers to be spot-on," he said.
Dave isn't designed to offer specific advice, Werner noted. Rather, the chatbot will offer up available options for each patient.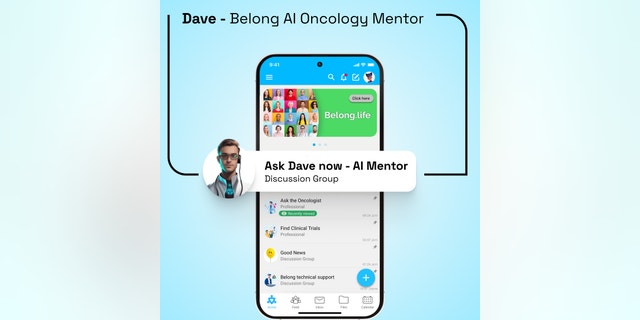 When it comes to giving comfort to a patient or serving up general information about treatments or side effects, Dave can be a great resource, Werner said.
"Where Dave shines is in being able to tell you quickly and efficiently about the latest technological advances in oncology," he said.
Because Dave is focused strictly on cancer, the chatbot won't attempt to assist with other conditions.
AI TECHNOLOGY USED TO READ MAMMOGRAMS COULD PUT PATIENTS AT POTENTIAL RISK: STUDY
"He will sympathize with you about a particular ailment, but if it's not cancer-related, Dave will tell you that he is not qualified to answer the question and will defer you to another direction to get your answer," Werner explained.
Deutsch shared another case in which a woman's husband was battling cancer in an advanced stage. 
She was one of the first to use Dave, seeking various ways to support her husband during those challenging times.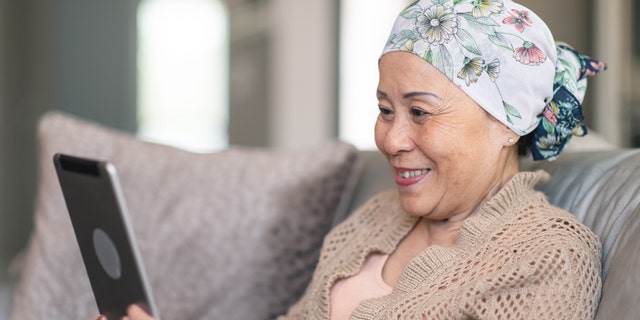 "A week ago, she reached out to Dave for the last time, sharing that her husband had passed away while expressing her gratitude for Dave's support," Deutsch said. 
"Despite knowing that Dave is artificial intelligence, she still felt compelled to express her appreciation for the support Dave provided during those difficult moments."
Designed to complement physicians, not substitute for them
While Deutsch considers Dave to be an excellent source of support and information, he recognizes that nothing can replace the expertise, insights and reassurance that skilled and experienced medical professionals offer.
"The ability to have both Dave and real human physicians available within a single platform is what makes the Belong app so appealing to patients," Deutsch said.
AI TOOL HELPS DOCTORS MAKE SENSE OF CHAOTIC PATIENT DATA AND IDENTIFY DISEASES: 'MORE MEANINGFUL' INTERACTION
The main benefit of Dave, he said, is that it can provide patients with immediate, informative answers, while physicians typically require more response time.
Deutsch estimates that Dave can address up to 80% of the inquiries that patients typically direct toward physicians or other medical or health personnel.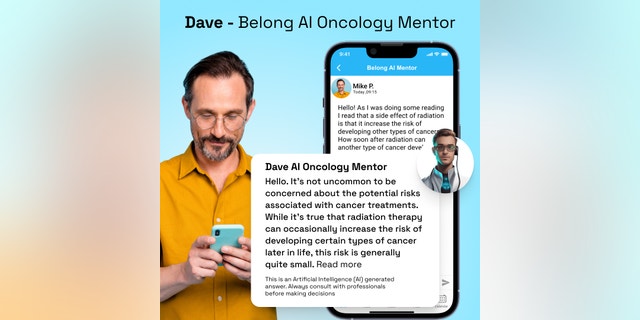 "This capability not only alleviates patients' stress levels, but also reduces the amount of time physicians need to spend educating patients," he said.
In cases in which patients need more specific information related to their personal health, Dave directs them to real physicians on the platform or encourages them to consult their own doctors for additional answers and support.
Designed to minimize risk
While Dave relies on responses from real physicians, Deutsch acknowledged that even actual doctors can make mistakes. 
"Also, the machine can misinterpret patient questions or encounter situations where insufficient information is provided by the patients themselves," he said.
"In cancer care, treatment decisions always involve human oncologists."
To mitigate these potential risks, the team validated Dave's responses by consulting real physicians. 
They found that 91% of the answers were highly accurate, 9% were partially accurate and none were partially inaccurate or completely incorrect, Deutsch said.
CLICK HERE TO SIGN UP FOR OUR HEALTH NEWSLETTER
The patients can also submit their feedback on the quality of Dave's responses. 
Above all, Deutsch said patients are made aware that —"despite Dave's human-like language" — they are engaging with an AI system and not a human being.
CLICK HERE TO GET THE FOX NEWS APP
"Every message from Dave includes a prominent visual disclaimer indicating that it is an AI-generated response, which may not always be accurate, and that patients should always consult their physicians before making decisions," he said. 
"In cancer care, treatment decisions always involve human oncologists, ensuring a human element in the process."