Top apps to troubleshoot your Wi-Fi signal
I think we can all agree on how frustrating it is when our Wi-Fi is super slow, especially when we're at home. We expect our internet service to perform at its best, given the amount we pay for it. There are ways to troubleshoot your Wi-Fi connection with these four apps that can work with your cell phone and laptop if they are connected to a Wi-Fi or mobile data network.
CLICK TO GET KURT'S FREE CYBERGUY NEWSLETTER WITH QUICK TIPS, TECH REVIEWS, SECURITY ALERTS AND EASY HOW-TO'S TO MAKE YOU SMARTER
Opensignal
iPhone: 4.5 stars (at the time of publishing) 
Android: 4.3 stars (at the time of publishing) 
OpenSignal is a highly-rated app for both iOS and Android phones. It lets you do a speed test of your Wi-Fi, including download, upload and latency for 3G, 4G/LTE, 5G, and Wi-Fi. You can also find the best network provider in your area with the app and compare coverage on Sprint, T-Mobile, AT&T and Verizon. The speed test runs a 10-second download test, a 10-second upload test and a ping test to determine the speed you will likely experience. Opensignal works with Wi-Fi mobile broadband internet.
MORE: HOW TO SPEED UP YOUR WI-FI, INTERNET CONNECTIONS
AmpliFi Wi-Fi
iPhone: 4.7 stars (at the time of publishing) 
Android: 4.8 stars (at the time of publishing)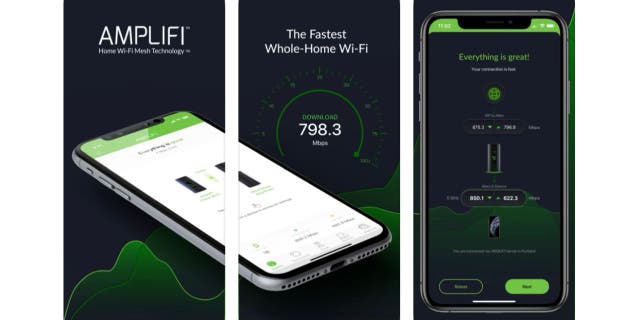 AmpliFi Wi-Fi is another great app that offers simple ways to add, monitor, configure and upgrade your network. You can view key diagnostic information, like a connected devices summary, upload and download activity, your IP address, and real-time network speed data. You can even control your family's screen time with the ability to pause connected devices and create an in-home guest network for visiting family and friends.
THE DARK SIDE OF PAYPAL AND HOW TO STAY SAFE
Net optimizer
iPhone: 4.5 stars (at the time of publishing) 
Android: 4.5 stars (at the time of publishing)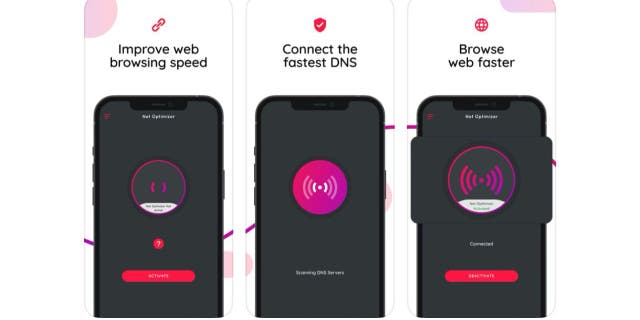 Net Optimizer lets you improve web surfing speed with faster response time, fix any lag you have and reduce latency. With just one touch, you can find and connect the fastest DNS server to improve your connection. This app works for both mobile data (3G/4G/5G) and Wi-Fi connection and supports many different DNS servers.
MORE: HOW TO SHARE YOUR WI-FI PASSWORD WITH GUESTS 
Wi-Fi Analyzer
iPhone: 4.4 stars (at the time of publishing) 
Android: 4.6 stars (at the time of publishing)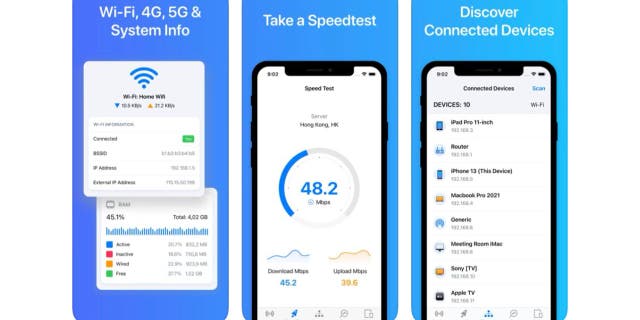 With Wi-Fi Analyzer, you can test your download and upload speed, plus do a one-tap to test speed for 2G, 3G, 4G, 5G, DSL, ADSL, and Wi-Fi. It gives you real-time network speed and traffic as well as lets you discover all the devices connected to the network. The app does have a subscription fee of $2.99 for one week, $5.99 for one month (with a 3-day free trial), or $14.99 for a lifetime subscription. Your subscription can be canceled at any time.
HOW TO DELETE PHOTOS OF YOUR HOUSE FROM REAL ESTATE WEBSITES
In what ways can I speed up my Wi-Fi connection?
1) One way to speed up your Wi-Fi connection is by investing in a mesh network. They're quick to install because you just have to plug in a few devices in areas of your home further from the router, and you'll immediately notice the difference when it comes to speed.
2) You can also try changing the position of your router. If your Wi-Fi router is sitting behind a couch or hidden in a drawer, you are blocking the signals from getting out as strongly as they can throughout the house. Make sure your router is placed in a centralized spot in your home with nothing covering it for the strongest connection.
3) If those options don't work, try using an Ethernet cable. This will allow you to connect directly to your internet through a wire. That way, you can't turn off the Wi-Fi accidentally, or even if the connection gets spotty, you'll be hardwired in.
WHY GEN ZERS ARE GOBBLING UP FLIP PHONES AND REJECTING SMARTPHONES
4) If you have tried all these options, you may have to upgrade to a faster internet speed. Contact your internet company and discuss upgrade options. You can usually get a better deal if you call and speak to the right representative and ask what promotions they currently have running.
5) Finally, it may be time to get a new router. The older your Wi-Fi router is, the slower your connection throughout your home is. Even if you're used to this slow connection, you don't want to wait until your router completely dies out on you before replacing it. These are some of the signs to look out for to indicate that it's time for you to get a new router.
Speed doesn't match up to the price: if you've upgraded to a better and more expensive internet package and your router just can't keep up with the update, then it's probably time to get one that can give you what you're paying for.
No more updates: if your router is so old that it doesn't even receive firmware updates anymore, that's a telltale sign that it's time for a new one. After your router receives its last update, any vulnerabilities that are discovered cannot be addressed, leaving your devices susceptible to potential security threats. Also, you will not be able to utilize the latest and most advanced Wi-Fi encryption on your devices.
The router is hot and noisy: any device that is running hot, whether it's a phone, computer, or router, in this case, is probably not working very well. Most routers are also silent at all times, so a lot of noise coming from the device is also a sign that the device is struggling to keep working properly.
Too many devices: nowadays, most of us have multiple devices, such as smartphones, laptops, tablets, and smart TVs. The more devices and people in a home, the more work the router has to do. Your old router might be getting too overwhelmed with all that extra work.
Not enough Wi-Fi coverage: your old router might only be able to cover a certain small area of your home, yet you want a router that can cover your entire indoor space.
It was released 5 or more years ago: if your router was released by its manufacturer more than 5 years ago, chances are they've come out with newer and better models for you to purchase since then. I recommend you purchase one that was released by the manufacturer in three years or less.
Visit CyberGuy.com/SecureRouters to see our top picks for Mesh Networking devices.
Visit CyberGuy.com/Mesh to see our top picks for Mesh Networking devices.
STOP SUBSCRIPTION CREEP IN ITS TRACKS WHILE SAVING MONEY AND PROTECTING YOUR PRIVACY
Kurt's key takeaways
As you can see, there are several ways to boost your connection, including using apps, investing in a mesh network, changing the position of your router, or replacing it, using an Ethernet cable and upgrading to a faster internet speed. Try these options and see which works best for you.
Have you tried these steps yet? What ways have you used to increase your Wi-Fi speed? Let us know by writing us at CyberGuy.com/Contact.
For more of my tips, subscribe to my free CyberGuy Report Newsletter by heading to CyberGuy.com/Newsletter.
Copyright 2023 CyberGuy.com.  All rights reserved.