Webb Space Telescope takes stunningly detailed infrared image of actively forming stars
The James Webb Space Telescope has captured the activity of a pair of forming young stars in high-resolution near-infrared light. 
These stars, known as Herbig-Haro 46/47, are imaged within the orange-white splotch, buried in a disk of gas and dust. 
The disk, which is not visible other than its shadow, feeds their growth as they continue to gain mass.
Its shadow can be seen in the two dark, conical regions surrounding the central stars.
ALIEN CRAFT COULD HAVE CAUSED 'MOST BIZARRE ROCK' ON MARS, SCIENTISTS CLAIM
The two-sided lobes extending outward from the actively forming central stars are shown in orange, made up mostly of material shot out from the stars as they repeatedly ingest and eject the gas and dust that surround them over thousands of years.
However, when material from more recent ejections runs into older material, it changes the shape of these lobes. 
The more recent ejections are shown in blue, running below the red horizontal diffraction spike, with clearer wavy patterns on the right side. 
Some disconnected ejections end in purple light and curly blue lines on the left also emerge.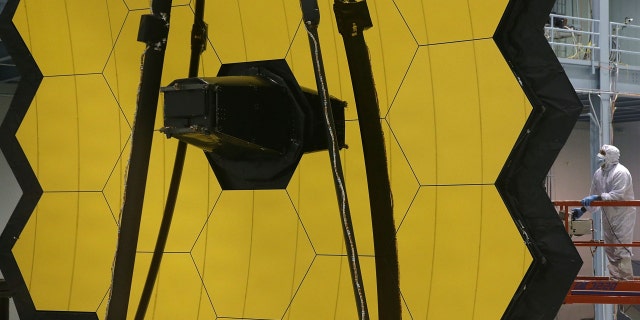 HUBBLE SPACE TELESCOPE FINDS BOULDERS POTENTIALLY SHAKEN OFF ASTEROID FOLLOWING DART EXPERIMENT
NASA says that all the jets are critical to star formation itself, and notes that ejections regulate how much mass the stars ultimately gather. 
The blue cloud in the image is a nebula, appearing nearly completely black in visible light.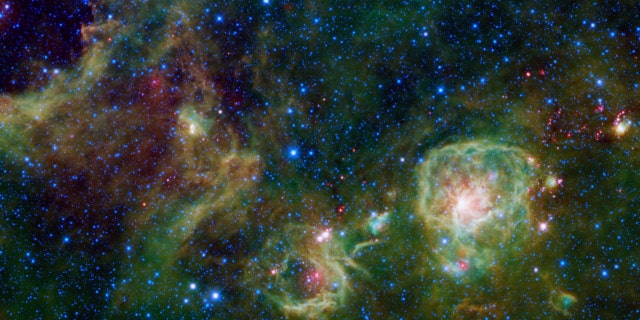 Using the telescope, scientists can see through the cloud, bringing the stars into focus and revealing more stars and galaxies that lie beyond it. 
"This nebula is significant – its presence influences the shapes of the jets shot out by the central stars. As ejected material rams into the nebula on the lower left, there is more opportunity for the jets to interact with molecules within the nebula, causing them both to light up," the agency explained.
CLICK HERE TO GET THE FOX NEWS APP 
The smaller right half of Herbig-Haro 46/47 – located just 1,470 light-years away in the Vela Constellation – is angled slightly closer to Earth.
Over millions of years, NASA says the stars will fully form.