What to know about the FTC taking on Amazon Prime
The Federal trade commission (FTC) is suing Amazon, alleging that the tech giant has been using what it calls "deceptive" tactics by tricking millions of consumers into unknowingly enrolling in its Amazon Prime service. The FTC claims Amazon illegally enrolled customers in Amazon Prime accounts without their consent, as well as making it difficult for them to cancel their subscriptions once enrolled. This lawsuit comes just ahead of Prime Day, one of Amazon's biggest sale days of the year, which is set to be held July 11-12. 
What to know. Did Amazon use 'dark patterns' to trick customers? 
CLICK TO GET KURT'S FREE CYBERGUY NEWSLETTER WITH SECURITY ALERTS, QUICK TIPS, TECH REVIEWS AND EASY HOW-TO'S TO MAKE YOU SMARTER 
The FTC filed a complaint on June 21 stating that they believe Amazon has been knowingly duping millions of customers into subscribing to Amazon Prime accounts by using what are called "dark patterns." 
Dark patterns are design choices of what customers see on screen deliberately created to mislead or trick them into taking actions they might not have taken willingly or understanding the full consequences of their actions. 
Examples of dark patterns include hidden costs, misleading information, forced consent, confusing interfaces, and other tactics that exploit user vulnerabilities. In this case, the FTC asserts that the dark patterns employed by Amazon were designed to trick customers into signing up for a Prime account. In doing so, the FTC charges that Amazon has violated the FTC Act and the Restore Online Shoppers' Confidence Act. 
Amazon's alleged difficult cancelation process 
To add insult to injury, the company is alleged to have also made the cancelation process super difficult for people once they realized that they were enrolled in an account that they did not want. According to the FTC, Amazon did this by slowing up or completely rejecting changes that would have made the cancelation process much easier for people. 
IT'S TIME TO TAKE CONTROL OF YOUR ONLINE PRIVACY WITH AMAZON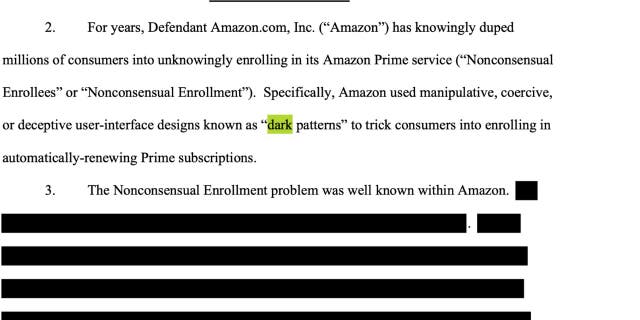 Amazon's Prime Membership opt-out difficulties 
According to the FTC complaint, there have been numerous allegations about the company's refusal to make changes to its policies that would make it easier for people to opt out of Prime memberships. 
The complaint also states that many customers have experienced trying to buy products on Amazon while constantly being faced with a prompt to subscribe to Prime for $14.99 per month, making it much more difficult to simply buy a product without having to sign up for a membership. Amazon Prime costs $139 per year and gives consumers access to free two-day shipping, along with access to Prime Video and music streaming. 
Unclear subscription button and difficult cancelation process 
The FTC alleges that there have also been cases where the button that was shown for people to click and buy their products was not made clear enough, as many did not know that clicking that button also meant subscribing to a membership. 
WHAT YOU NEED TO KNOW TO CASH IN ON FACEBOOK'S $725M SETTLEMENT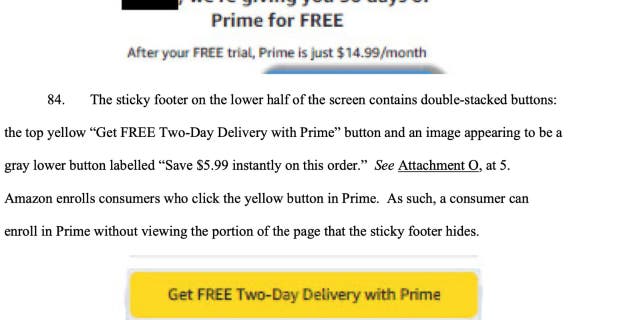 When it came to canceling their membership, the FTC states that people were forced to be redirected to numerous different pages where they were asked multiple times to either stick with Amazon at a discounted price, turn off auto-renewal, or not cancel altogether. 
How has Amazon responded to this complaint? 
The complaint claims that Amazon was aware of its actions and that it failed to take any significant steps toward change. Amazon, however, vehemently fought back against these claims. In a statement to CyberGuy, an Amazon spokesperson strongly denied the accusations, stating: 
The FTC's claims are false on the facts and the law. The truth is that customers love Prime, and by design we make it clear and simple for customers to both sign up for or cancel their Prime membership. As with all our products and services, we continually listen to customer feedback and look for ways to improve the customer experience, and we look forward to the facts becoming clear as this case plays out. We also find it concerning that the FTC announced this lawsuit without notice to us, in the midst of our discussions with FTC staff members to ensure they understand the facts, context, and legal issues, and before we were able to have a dialog with the Commissioners themselves before they filed a lawsuit. While the absence of that normal course engagement is extremely disappointing, we look forward to proving our case in court." 
HOW YOU CAN CLAIM PART OF THE $23 MILLION GOOGLE PRIVACY SETTLEMENT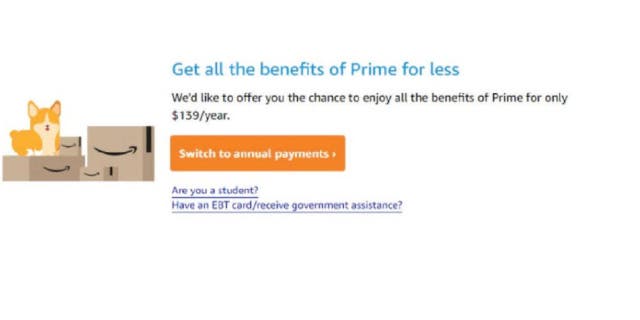 Kurt's key takeaways 
The allegations against Amazon by the Federal Trade Commission raise serious concerns about the company's practices and the use of dark patterns to enroll customers in Amazon Prime without their consent. However, what to know is that this lawsuit is still ongoing, and it is too early to tell what it will lead to or if people who have been duped, as the FTC alleges, will be repaid in any way. If Amazon truly has been deceiving its customers and making it difficult to cancel subscriptions, then we might see the start of significant and necessary changes made to the company's policies. People have the right to choose how they want to spend their money, and no company, no matter how big or small, should be allowed to dictate that for them. 
CLICK HERE TO GET THE FOX NEWS APP
Have you ever had troubles with Amazon Prime membership?  Let us know by writing us at CyberGuy.com/Contact 
To get alerts like this and more of my tech tips, subscribe to my free CyberGuy Report Newsletter by heading to CyberGuy.com/Newsletter
Copyright 2023 CyberGuy.com.  All rights reserved.