When jet ski meets sports car you get this ultimate watercraft
What happens when you cross a jet ski with a sports car? No, it's not a punch line; it's JetCar California's latest aquatic marvel that will have you exclaiming, "Water you waiting for?"
MASSIVE CYBERATTACK STRIKES MILLIONS: ARE YOU AT RISK?
A splash of style and speed
CLICK TO GET KURT'S FREE CYBERGUY NEWSLETTER WITH SECURITY ALERTS, QUICK TIPS, TECH REVIEWS AND EASY HOW-TO'S TO MAKE YOU SMARTER
Imagine this: You're zipping across the water, feeling the exhilaration of a jet ski but with the sleek design and luxury of a sports car. Sounds too good to be true? I think not! JetCar California has married these two worlds in a way that's turning heads and making waves (now that's a punch line). Picture a low-profile, aerodynamic wonder that skims across the water with the elegance of a swan and the speed of a cheetah. This thing will make you the life of any beach party.
HOW YOU CAN CLAIM PART OF THE $23 MILLION GOOGLE PRIVACY SETTLEMENT
MORE: HEARD OF A TINY HOUSE? MEET THE MICRO RV
Vroom, vroom meets splash, splash
Under the hull, you'll find a turbocharged engine that borrows the best from both jet ski and sports car technology. This baby can hit speeds of up to 65 mph (105 km/h) – that's right, time to practice your "woo-hoo!" Not only will you look like you're driving a luxury sports car on water, but you'll also feel the thrill that comes with it.
MAP BURIED INSIDE YOUR PHONE REVEALS WHERE YOU'VE BEEN AND PHOTOS YOU SNAPPED THERE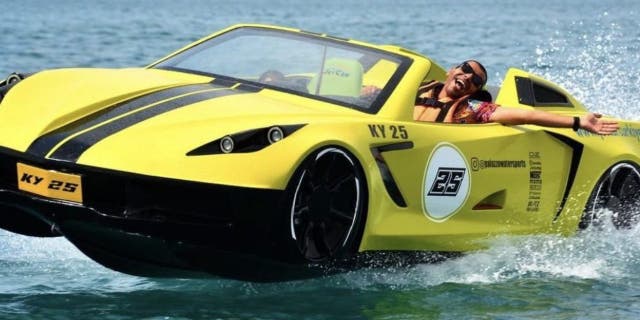 Safety and comfort: A marriage made in aquatic heaven
JetCar California didn't forget about safety and comfort while designing this stylish speed demon. The sports car-inspired cockpit features luxe materials, ergonomic seating and a digital dashboard display, making you feel like aquatic royalty. You can enjoy your ride worry-free with safety features such as an automatic emergency shut-off system and built-in flotation.
FOR MORE OF THE LATEST TECH & SECURITY ALERTS, SUBSCRIBE TO MY FREE CYBERGUY REPORT NEWSLETTER BY HEADING TO CYBERGUY.COM/NEWSLETTER
MORE: 5 STRANGE NEW INVENTIONS ARRIVING IN 2023
The price of aquatic luxury
As you might expect, this unique watercraft has a price tag that reflects its cutting-edge design and performance capabilities. The JetCar California watercraft starts at $35,000, making it an investment for those seeking the ultimate aquatic adventure. If looks alone don't fully sell you, you can always schedule a test drive or simply book a ride for a day of adrenaline-packed fun. Regardless of whether you're considering a purchase or just curious, experiencing this aquatic beast firsthand will cost you $350 per hour for a test drive. You can book a session now on their website.
THOUSANDS OF IMPOSTER WEBSITES DISCOVERED MIMICKING TOP BRANDS TO STEAL YOUR BANKING INFO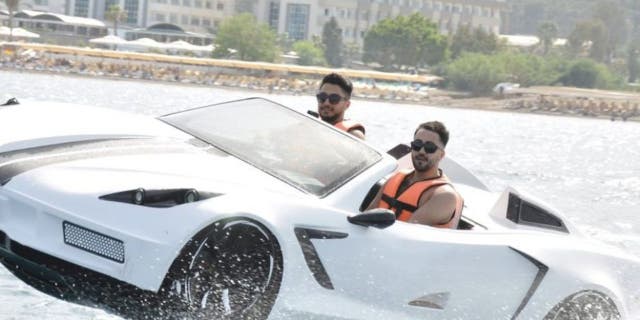 Kurt's key takeaways
Innovative and daring. What's not to love? The JetCar California combines the thrill of a jet ski with the luxury of a sports car, offering a unique aquatic experience that will make you the envy of any beach or lake gathering, with a price tag reflecting its cutting-edge design and performance.
CLICK HERE TO GET THE FOX NEWS APP
What do you think about this jet ski-sports car mash-up? Can you picture yourself zipping around on this bad boy, making waves and turning heads at the beach? Or are you more of a "watch from the shoreline" kind of person? Let us know by writing us at CyberGuy.com/Contact/.
For more of the latest tech and security alerts, subscribe to my free CyberGuy Report Newsletter by heading to CyberGuy.Com/Newsletter/.
Copyright 2023 CyberGuy.com. All rights reserved.